Premier League team of the season: the best XI so far
With almost one-third of the season gone, two players from Leicester City and two from Southampton make our side but Arsenal provide more individuals than any other club – and there is only one from the leaders, Manchester City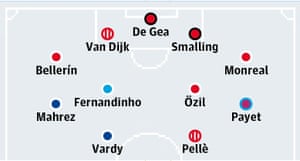 David de Gea (Manchester United)
Outwitting Real Madrid and convincing De Gea to sign a new contract might just be Manchester United's greatest triumph so far in the post-Ferguson era. The farcical sight of the young Spaniard sitting alongside Víctor Valdés and Anders Lindegaard to watch Sergio Romero play seems a hazy memory now, and De Gea has demonstrated his mental fortitude by putting all that ballyhoo behind him and immediately responding with top-class performances. He has made the extraordinary routine, although even by his standards the save from José Fonte's header that helped United to an improbable victory at St Mary's in September was phenomenal. Keep up his current form and the 25-year-old will have been worth close to his age in points this season.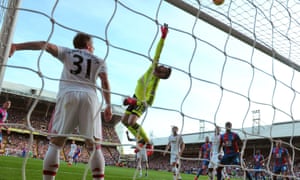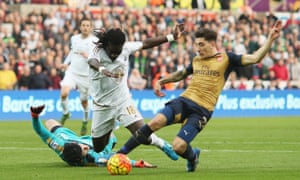 Virgil van Dijk (Southampton)
The centre-back might have made a calamitous start to his international career but his first steps in the Premier League have been immaculate. He has played every minute of every Southampton league match since arriving in September, almost effortlessly forming a solid partnership with the excellent José Fonte. Commanding in the air, tough in the tackle and composed on the ball, he has been both an effective blocker and able builder from the back. He has also been a menace at the other end from corners and can take a mean free-kick. Southampton bought Van Dijk from Celtic for about £11.5m, which is not much more than Tottenham Hotspur paid Atlético Madrid for Toby Alderweireld, who has made a big difference at White Hart Lane but who has not been missed at St Mary's after his loan there last season, thanks to Van Dijk.